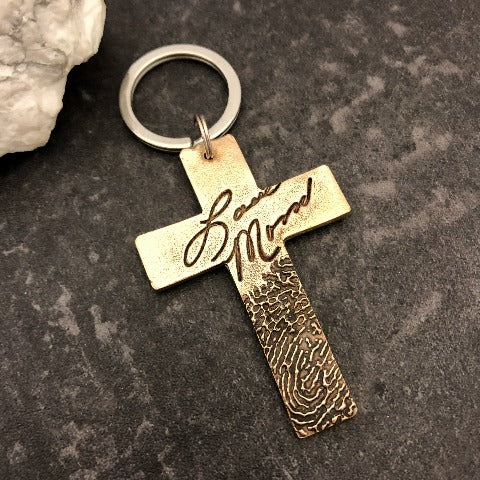 Say Anything... Jewelry by Stephanie Wilde
Large Cross Keychain in Bronze
This statement cross piece measures 1.5 inches wide and 2.25 inches tall. It gives ample space for including multiple fingerprints or adding handwriting. Fits up to 6 fingerprints very nicely. What a great way to remember those you love and take them along with you wherever you go. This is priced with 1 Print/Writing each additional print will add $20 each. Contact us if you'd like more than one print. 

Personalize this amazing keepsake with your loved one's fingerprint along with their unique handwriting!!

Getting the handwriting: Simply scan a copy of the handwriting and email it to us at sayanythingjewelry@yahoo.com. Don't have a scanner? Take a photo of the writing and email it right from your smartphone. We can size the writing larger, smaller or rearrange to fit the heart. You can also stop in at our store with the writing and we will scan it in right away and give the writing back to you!

Getting the print: Please contact us if you need a fingerprint kit for this keepsake. If you have an existing ink print or digital fingerprint, scan a copy of the ink print and email the ink or digital fingerprint to us at sayanythingjewelry@yahoo.com.


---
More from this collection